As I mentioned yesterday, there's a whole lot of great acts touring through town this weekend. Here's what's on my radar ...
Friday
Early music picks:
Joe McMurrian and Woodbrain at the Laurelthirst ... 6 pm, no cover
Pete Krebs and His Portland Playboys at the Secret Society ... 6 pm, $5
At the Aladdin, it's
Greg Brown
, one of the most respected songwriters anywhere. His legion of followers will pack the house ... join them and see why ... 8 pm, $35
Tonight kicks off the
32nd annual Reel Music Festival
. If you love film and/on/about music, you definitely want to check out this years selections. Things get kicked off tonight with
Heaven Adores You
, a new documentary about Elliott Smith.
Get grass jammy at the
Crystal Ballroom
with Leftover Salmon featuring Bill Payne (Little Feat) and special guest Kyle Hollingsworth (String Cheese) ... hmm, a Little Leftover Cheesy Salmon? Sounds like a pretty tasty meal ... 8 pm, $30
Sallie Ford
brings her new band (with a highly awaited new CD) to the
Doug Fir
... BTW, the Doug Fir is celebrating it's 10th Anniversary all month, so check out some of the special shows and help them celebrate ... 9 pm, $15
The Terry Robb Trio, featuring special guest David Vest on piano will be at Vie De Boheme ... 9 pm, $12
Saturday
Tonight I'll be at the Reel Music Festival for a showing of local director Beth Harrington's
The Winding Stream
. It's the story of the Carter and Cash families that were so integral in the shaping of country music. Harrington's film is a 12-year labor of love that dives deep into the history and legacy of the Carter Family, Johnny Cash, June Carter, and a host of other family members that popularized an essential American musical form. The film has been receiving high praise on the film festival circuit, and I highly recommend checking it out. And, Harrington and Tom D'Antoni, editor-in-chief at Oregon Music News, will participate in a post-screening discussion about the film ... 7 pm, $10
Early music ...
How about Ron Rogers & the Wailing Wind at the Landmark Saloon ... 6 pm, no cover
Or,
Peter Pants
(including Turtle VanDemarr, Dave Reich, Jon Koonce) at the Secret Society ... 6 pm, $5
It's been a dozen years and a number of venues, but Miz Kitty's Parlor's home is now the
Alberta Rose
. So come check out the kickoff to the 13th season of modern vaudeville ... 8pm, $23
Sunday
It'as always a homecoming when
Tracy Grammar
is in town. She'll be hanging with a couple hundred good friends at the Alberta Rose tonight to celebrate Dave Carter's induction into the Oregon Music Hall of Fame ... 7:30 pm, $18
At the Aladdin, it's
Del and Dawg
(Del McCoury and David Grisman) celebrating almost 50 years of bluegrass friendship ... there's no way this won't be fun with some stellar pickin' from two veterans ... 8 pm, $42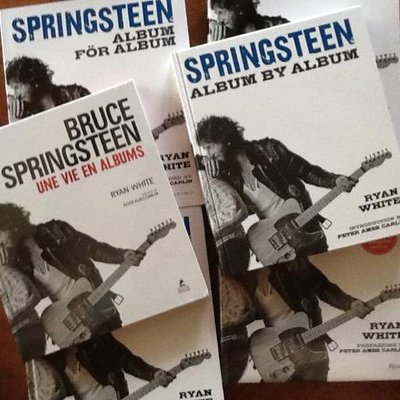 I've missed his regular musings on the local music scene, so it's cool to see former Oregonian music editor Ryan White will celebrate the release of his new book,
Springsteen: Album by Album
with music (from Rebecca Gates, Casey Neill, Jim Brunberg, Sarah Gwen, Mark Orton) and a bit of reading at
Mississippi Pizza
... 6 pm, free
Ok ... that's what I've got .... see ya when the mood strikes me to write again!