Definitely beautiful music tonight at the Doug Fir with a free concert by
Judith Owens
. Though somewhat under the radar, she's blessed with a powerful voice and deft writing talents. She's doing a few targeted dates to announce the release of her latest recording,
Ebb and Flow
, that draws on the influences (and a few tunes) from 70s singer/songwriters like James Taylor, Joni Mitchell, Carole King ... and employs the powerful backing of legendary bassist Lee Sklar (who'll join her tonight), drummer Russ Kunkel, and guitarist Waddy Wachtel - three who so often backed Taylor, King, et al. BTW, Owens also has a wicked sense of humor (husband
Harry Shearer
insists she's the funny member of the family). ...
8pm, free
.... and if you want to catch a short set earlier, she'll make an in-store appearance at Music Millennium at 6.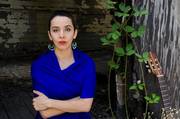 If you've never heard her, you have a few more nights to check out
Edna Vasquez's residency week
at Al's Den in the Crystal Hotel. Whether she's performing with her mariachi band (tonight), rock band, or solo, Vasquez is a passionate, compelling performer. And her final night, Saturday, will be with the equally compelling Luz Elena Mendoza ... 7 pm, no cover
And in case I don't get to writing a post about the rest of the weekend, "one of the most lauded singer-songwriters of her generation,"
Dar Williams
, will be at the Alberta Rose tomorrow night. And, Anne Weiss will open ... 8 pm, $30