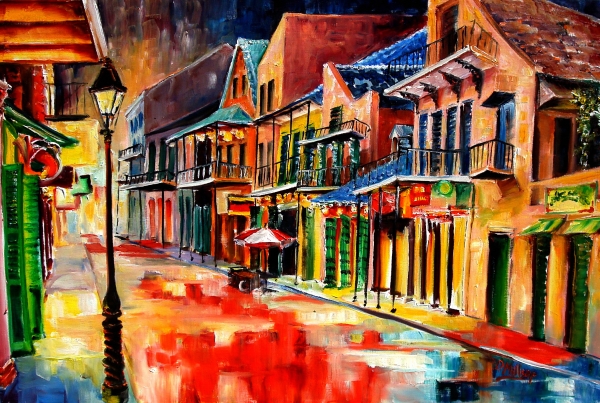 I'm here ... and it's hard to believe my two-month immersion in the Crescent City has begun. Have some work ... teaching a couple of courses for the University of Phoenix New Orleans campus (same as I do in Portland), and getting a chance to explore a city that I've only sampled in the past (a few trips, but none longer than 4 or 5 days), and which has fascinated me for a very long time. Figured I really needed to finally do it and deal with whatever was compelling me to be here. Maybe I'll find out.
Obviously a great deal has to do with the music. The music, music culture, and music history of New Orleans has been an enjoyment and interest for a long time ... and the more I learn, the more I want to know. It is the musically richest of American cities, with influence on nearly every form of music that has developed in this country. It has a music culture that encourages both innovation and tradition - and music is woven into the fabric of the city and it's neighborhoods. But being here can't help also being an exploration of race in this country ... in a city with a long and complicated history of race relations that is intrinsically tied to the development of it's distinctive culture.
I also want to explore greater south Louisiana and understand more about Cajun culture and influences that are so particular to the region. I'd like to meet some of the folks I connected with through the Gulfsongs project after the oil disaster. I want to understand the environmental issues of the Gulf Coast a little more directly, and meet people in communities that are dealing with the continued erosion of coastal wetlands.
This is also a personal journey that might help me shake loose some of the internal stagnation that has slowly crept into my life over the past years ... trying to get past thinking inside the restrictive box I've created for myself that might not serve me in whatever years I have left. I have no illusion that the trip will reveal some miraculous self-knowledge, but it will take me out of my comfort zone and provide an opportunity for conscious presence in unfamiliar territory. Never know where that might lead.
Will I write on the blog? Good question. Perhaps.
If I feel moved to share, I want to make sure I actually have something to share about the experience - not just blather about what clubs I'm going to and what music I'm hearing (and you're not). Maybe some nuanced observation (ok, that's a real stretch for me), or some compelling experience/reflection. Perhaps.
So, for music recommendations in Portland I'll turn this over to
Marychris Mass
and Dave Johnson to provide their perspective on upcoming shows .... I might chime in here and there if I see something coming up I really think you should know about. Otherwise ... check for new posts and use the calender link to go to Willamette Week, Oregon Music News, CBA, and Mcmenamins' ... a little work, but at least you'll see what I miss or don't mention (I do have my biases!) ...
Anyway, I'm going on way too long with this post ... enjoy March and April in Portland ... and see all y'all out and about a bit further down the road.